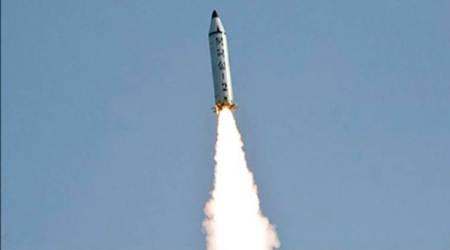 Shares are mixed in Asia following a broad rally on Wall Street that lifted US stocks to a milestone-shattering finish. Investors appeared to shrug off the latest launch of a ballistic missile by North Korea.
KEEPING SCORE: Japan's Nikkei 225 index gained 0.5 per cent to 22,597.20, while South Korea's Kospi edged 0.1 per cent lower to 2,512.90. Australia's S&P ASX 200 added 0.5 per cent to 6,011.10. The Hang Seng index in Hong Kong fell less than 0.1 per cent to 29,663.35 and the Shanghai Composite index rebounded from early losses to gain 0.1 per cent, at 3,339.16. India's Sensex added 0.1 per cent to 33,659.02 and shares in Southeast Asia were mixed.
WALL STREET: Banks led gains, along with industrial stocks, retailers and health care companies. Investors were encouraged by news that a Senate committee cleared the way for a tax reform bill to go before the full Senate. Financial stocks also got a boost from Federal Reserve chair nominee Jerome Powell, who told another Senate committee that the Fed would consider easing up on bank regulations. The S&P 500 index rose 1 per cent to 2,627.04. The Dow Jones industrial average gained 1.1 per cent to 23,836.71 and the Nasdaq composite added 0.5 per cent to 6,912.36. The Russell 2000 index of smaller-company stocks picked up 1.5 per cent, to 1,536.43. Gainers outnumbered decliners more than 2 to 1 on the New York Stock Exchange.
NORTH KOREA MISSILE: North Korea on Wednesday ended its longest pause in missile tests this year with what appeared to be its most powerful version yet of an intercontinental ballistic missile meant to target the United States. North Korea's 20th launch of a ballistic missile this year adds to fears that the North will soon have a military arsenal that can viably target the US mainland. But it barely registered in regional markets.
ANALYST'S TAKE: "The markets seem to be more immune than in the past to North Korea's missile testing and, taking cues from the overnight reaction, we can expect a muted reaction in the Asian session today," Prakash Sakpal of ING said in a commentary.
US DATA BOOST: Investors got a double dose of encouraging US economic data when the Conference Board said its consumer confidence index rose this month to its highest level in 17 years. Economic growth clocked at a healthy 3 per cent annual pace in the third quarter, and the unemployment rate fell to a 17-year low of 4.1 per cent. A separate index showed US home prices rose at the fastest pace in more than three years in September.
ENERGY: Benchmark US crude gave up 23 cents to $57.76 per barrel in electronic trading on the New York Mercantile Exchange. It dropped 12 cents to settle at $57.99 a barrel on Tuesday. Brent crude, used to price international oils, lost 27 cents to $62.97 per barrel. It declined 23 cents to close at $63.61 in London.
CURRENCIES: The dollar was unchanged at 111.46 Japanese yen on Tuesday. The euro rose to $1.1864 from $1.1839.